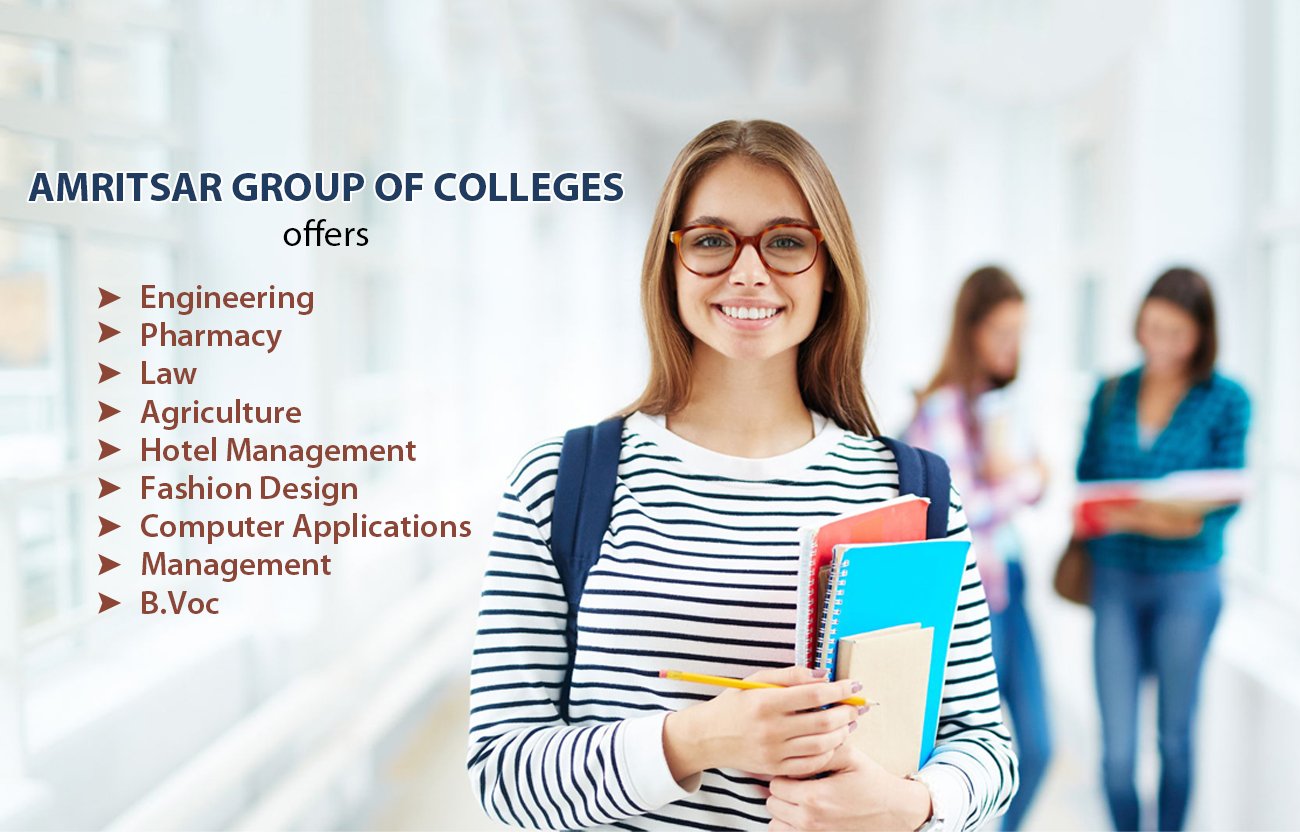 Best Courses To Study In Amritsar
Building a career for yourself is not just about following your passions blindly. You need to have a structured plan mapped out so that you can work on your goals at a steady pace. For this the very first thing that comes into the student's mind is which course to be chosen?
Many a times, the students are confused with the same question of choosing a right career option for them and they seek the guidance of their friends, teachers and parents for that. Getting career guidance helps them decide their career path in the right manner. Proper guidance helps in making adequate educational and occupational choices and in taking career decisions based on the demand and requirements of the future of work.
It makes a shift from the general understanding of life and work to a more specific understanding of the realistic and practical career options available.
There are many colleges in India which bring many thoughts to the minds of the students. While for some it is about reaching the corridors of the Top engineering colleges, or Top Medical colleges on the other hand there are many who are not sure about what course to do and which college to join. Career guidance helps them to do so. You can seek the best colleges in India as well as in the world for your higher education. But the question arises which course is to be taken?

Make a right choice for course
First of all, you have to check out the right course according to your stream and interest. If you have science with PCM you can go for higher education in many professional and educational courses like engineering, architecture, design, Information Technology, and pure sciences degrees in physics, chemistry, mathematics, statistics etc. If you have science with PCB you can go for MBBS / BAMS / B Sc M Sc allied medical fields like dentistry, Ayurveda, veterinary etc. Lot of interesting options are available in biochemistry, microbiology, biotechnology, bioinformatics and pure sciences like botany, zoology, and research in biological sciences. B Com, BBA, B Com LLB , Economics Hons, Bachelor in Business Economics are some of the courses that you can do after class 12th in commerce or you can hone your skills in the financial sector. If you took humanities you can go for BA in your chosen subject or can move to professional courses after 12th.
Right Method to decide which course should you take
If you are bothered with a lot of career options in front of you and you are unable to pick out a right course for you, take a psychometric test to map your real talents. This will help you to map your personal traits and profile with the help of aptitude tests in between. After that, pick up that course/career where you can utilize your Aptitudes to the fullest. Explore the career perspectives of the various courses and then choose the area where your strengths match in order to achieve success.
AGC - a right place for your bright future
Amritsar Group of Colleges is one of the best colleges in Amritsar, Punjab offering quality education through its various courses which are specifically enriched with the practical exposure of industry to its students. The college offers various courses in engineering, management studies, computer applications, hotel management, agriculture, pharmacy, fashion design and law. The college also offers some vocational courses in three streams- Software Development, Automobile servicing and Hospitality & Catering Management to empower the youth leading to employment and income generating opportunities.
The college is enlisted among the Best Engineering Colleges of North India. It is an autonomous college accredited with Grade 'A' by the National Board of Accreditation (NBA)(2009-12 & 2016-18) and the National Assessment & Accreditation Council (NAAC). The college is affiliated to Inder Kumar Gujral Punjab Technical University (IKG PTU), Kapurthala (for engineering and management courses) whereas the AGC's Pharmacy Courses are affiliated to IKGPTU and PSBTE & IT. And, for the courses under law field i.e. BA LLB and LLB, the institute is affiliated to Guru Nanak Dev University (GNDU), Amritsar.

Courses Offered by the college
Engineering
Engineers have a vital role to play in India's rapidly evolving economy. With the advancement of technology, engineering is becoming a most popular field in terms of development of the nation as well as of the economy. In current times, engineering has offered a beacon of hope to aspiring students as a stable career choice. This is proving to be the best stream in terms of job opportunity and career building. Students are more prone towards their career in engineering as this is a highly paying job. It's a great way to future-proof your career and branch out a successful career from a technical point of view. AGC offers engineering in five streams - Computer Science Engineering, Mechanical Engineering, Electrical Engineering, Civil Engineering and Artificial Intelligence & Machine Learning Engineering. The college being the best engineering college in Punjab sets a record in terms of quality education and good placement record.

B.Tech-CSE
It is the study of the engineering of computer science systems. It is a diverse field of engineering which is connected to computers and its language and developing applications.
B.Tech-CE
This branch of engineering deals with the study of the design and construction of public and private works, such as infrastructure, bridges, dams, and buildings.
B.Tech-EE
A specific branch in engineering which provides a wide knowledge of various electrical and electronic systems, such as electrical circuits, generators, motors, electromagnetic/electromechanical devices, etc and their manufacturing, working and designs.
B.Tech-ME
This branch of engineering largely deals with the engineering of physical or mechanical systems, such as power and energy systems, aerospace/aircraft products etc.
B.Tech AI/ ML
A four-year undergraduate program which is specifically designed to build intelligent machines, software, or applications with a cutting-edge combination of machine learning, analytics and visualization technologies.
Pharmacy
Pharmacy is a branch of science that deals with preparation and dispensing of medicines mainly focusing towards Clinical and Community Pharmacy. This branch of learning offers you three different courses after +2.
B. Pharmacy
It is a 4-year undergraduate course which opens doors to several career opportunities in both government and private sectors. This is the best course for those who want to make their career in a wide range of industries related to the prescription, manufacture & provision of medicines.
B.Sc (Medical Laboratory Sciences)
This is an allied health profession programme which covers the diagnosis, treatment and prevention of disease through the use of clinical laboratory tests. Medical laboratory professionals have many choices of practice settings or careers like Hospitals, clinics, nursing homes and commercial laboratories, lots of opportunities available for qualified laboratory professionals.
D. Pharmacy
It is a course with a duration of 2 years. The eligibility criteria is 10+2 with Physics and Chemistry being mandatory subjects and any one between Biology and Mathematics.
After successful completion of a Diploma in Pharmacy, one can be employed in a Pharmacy shop. The diploma course provides the basic concepts and does not provide any specialization. Diploma graduates can also get admission into the 2nd year of the Bachelor of Pharmacy program (Lateral Entry).
Management Studies
Management studies make the learning business exclusive with its specialized teaching approach, research focus, industry focus, innovative thinking, and entrepreneurship skills by world-class facilities. Being the top management and business college in India, AGC offers two courses after +2 - BBA and B.Com (Hons.). These two courses in commerce stream after +2 provides a competitive platform to students so they boost their skills in core subjects such as hi-tech business techniques, trading & financing, business operations, and analysis of risks, supply, and production.

BBA
It is a three-year graduate program which offers knowledge and training in management and leadership skills to prepare the students for managerial roles and entrepreneurship.
B.Com
This is a core program in commerce stream which impart Analytical skills, Financial Literacy, Business Acumen, Business Laws, Taxation knowledge etc, with aim to make the student job ready in the field of Banking, Accounting, Insurance and Finance.
Computer Applications
Under the curriculum of computer applications, the college offers a three-year BCA program which offers excellent job prospects in India as well as abroad, specifically in the IT sector. The main objective of this course is to equip the students with necessary skills to get rewarding careers into the changing world of Information Technology.
Hotel Management
A graduate from Hotel Management can land up jobs at Hotels & Restaurants, Cruise-Ship Hotel management, Hospital Administration and Catering, Hotel and Tourism Associations, Airline Catering and Cabin Services, Club Management, Forest Lodges, Institutional Management, Catering departments of railways, banks, armed forces, shipping companies, etc. AGC offers a four year degree course in Hotel Management i.e. BHMCT course which opens a wide range of career options in the industry.
Agriculture
Agriculture is a fundamental source of national prosperity. One can get exposure to real-life situations and the environment with the honors degree of Agriculture at AGC i.e. B.Sc (Hons.) Agriculture course. With a bachelor's degree in agriculture, students can secure high-paid jobs in both government and private sectors. The scope of Agriculture has grown tremendously in recent years involving the study of various scientific, technical and business subjects related to agriculture, horticulture, farm management, poultry farming, dairy farming, agricultural biotechnology, etc.
Fashion Design
Fashion Design is a glamorous field which is considered to be the best paying industry these days. After pursuing a degree in Fashion Design Course in Amritsar, Punjab, one can open doors to get ample career opportunities. Designing, Research, Cloth Productions, Textile Designing etc. are varied options for the students of Fashion Designing. The college offers the best curriculum which is totally based upon the practical stuff and has played an influential role in the growth of the Indian fashion industry.
B. Vocational Courses
AGC also offers three courses under B. Vocational program in the fields of Software Development, Hospitality & Catering Management, and Automobile Servicing, making AGC the best B. Vocational College in Punjab. The program awards a certificate of 6 months or Diploma of 1 year or Advance Diploma of 2 years or a Degree in B. Vocational with duration of 3 years as per the interest of the students. The main objective of this course is to provide multiple "entry and exit" options at various levels through a program designed in the formation of the skill ecosystem.