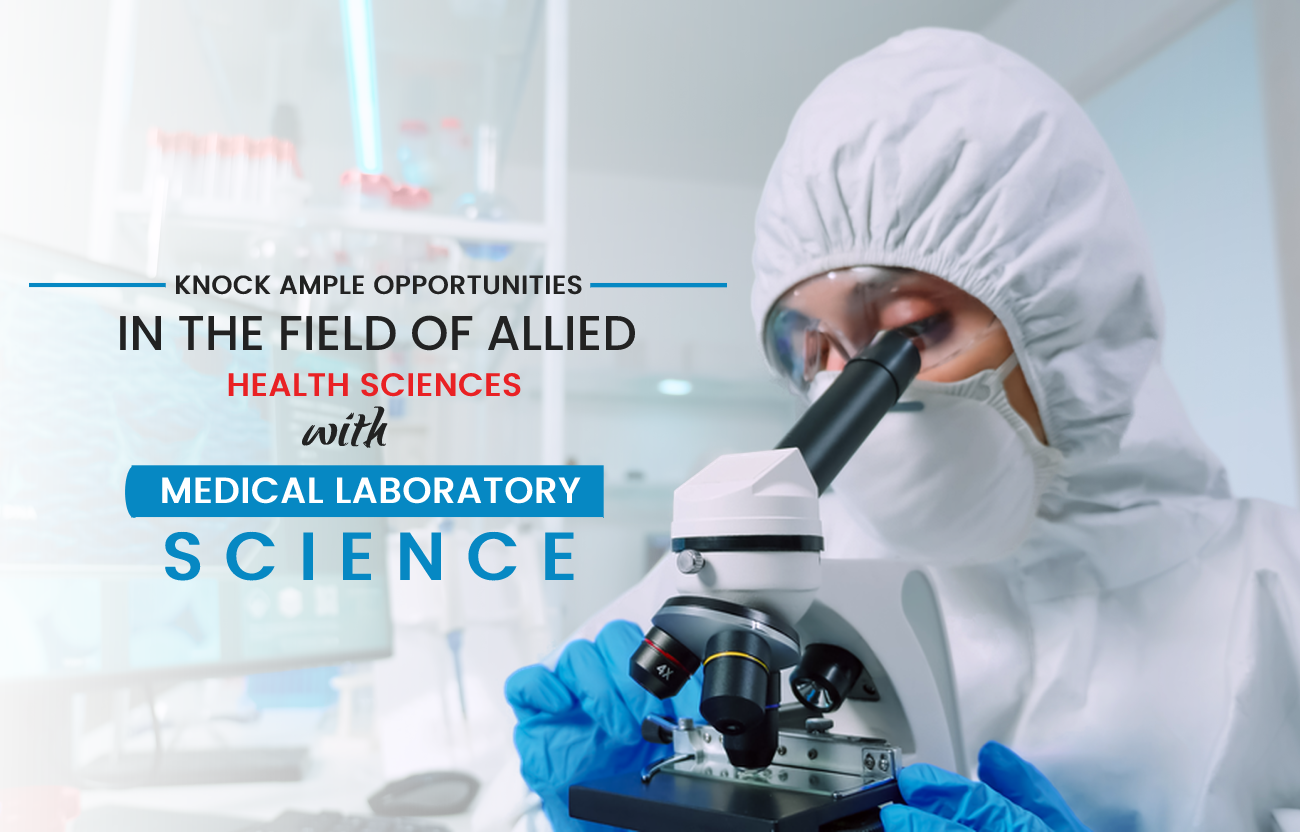 Make a stimulating career in Medical Laboratory Sciences
There are many different careers in the world. One of the largest career fields is in medicine. The medical field consists of many different jobs, some of which are physical therapists, surgeons, pediatricians, nurses, and anesthesiologists. All of these jobs help people when they are sick, injured, or recovering. It is a wide field consisting of numerous branches. Nursing, pharmacy, physical therapy, pediatric, anesthesiology just to name a few are some of the main pillars of our healthcare system today. It is one of the most lucrative careers that an individual can pursue.
About B.Sc. MLS
B.Sc. MLS or Bachelor of Science in Medical Laboratory Sciences is a three-year undergraduate healthcare profession that offers knowledge in laboratory practices - practical and theoretical information of diagnosis, remedy and prevention of diverse varieties of ailments, with the aid of the scientific examination. It is an allied health specialty program that deals with the diagnosis, treatment and prevention of diseases through the utilization of clinical laboratory tests.
Role of a Medical Lab Science Expert
Medical Lab Science Course in Punjab renders professional services for the benefit of society by adopting entrepreneurial approach, international standards and ethical values. As important members of the health care group, medical laboratory experts play an important role in collecting the information required to provide the best care to an ill or injured patient. The truth of the matter is that the practice of modern medicine would be outlandish without the tests performed in the laboratory. This path also provides best knowledge of the things required in the medicines and laboratories, creating a state-of-the-art academic ambience, documentation and reports samples.
What does a medical laboratory scientist do?
Medical laboratory scientists/technicians play an essential function in carrying out any clinical sports. This route equips college students with the competencies required to perform advanced laboratory gadget.
Eligibility Criteria
Candidates who have passed the 10+2 with Physics & Chemistry as compulsory subjects and one subject from Mathematics, Biology conducted by a recognized Board / University / Council can apply for admission to this course.
Why Medical Lab Sciences at AGC?
This is an excellent course for people who need to pursue a profession in the fitness discipline. drugs are one of the maximum demanded fields nowadays globally. Amritsar Group of Colleges is the best college in India which offers this course to the students who aspire to become a laboratory technician. The college provides various skills for successful medical lab scientists who are effective communicators with a sound intellect and interest in science and technology. Education at AGC depicts excellent eye-hand coordination, dexterity, and visual acuity are important to skillfully perform and analyze tests.
Career prospects
Blood Bank Technologist
Clinical Chemistry Technologist
Cytotechnologist
EEG Technician/ Technologist
Histology Technologist
Immunology Technologist
Laboratory Administrator
Medical Lab Manager
Medical Lab Scientist
Medical Technologist
Microbiology Technologist